A key challenge for our portfolio of content sites is to create as much high-quality, authentic content as possible in a short time. At the same time, it is our claim to represent all outstanding content in the respective market (e.g. gaming, travel, etc.) via our media.
In order to get a big step closer to these goals and at the same time create real win-win situations with operators of smaller blogs via partnerships, we developed and tested the so-called Content Licensing Model in the last few months.
Below, we'll give you an exclusive look into the strategic engine room at TreasureHunter and present you with an effective way to either quickly build reach and revenue streams and/or scale your content with low risk via blog collaborations. Let's jump right in!
Definition and Advantages of the Content Licensing Model
Content licensing is the publication of licensed content from a mostly little-known partner blog on a high-reach content page ('flagship'). The partner blog receives a performance-based payment (per view) as well as an immediate boost in attention in the industry and SEO benefits (links). The flagship operator, on the other hand, receives high quality content and improved market penetration in a low-risk way.
To understand why this model works so outstandingly well for both sites, let's take a quick look at the core KPIs of both flagship and partner blog sites.
Flagship KPIs
>3 years old
>1k ref. domains (DACH) resp. >3k ref. domains (USA)
>100.000 visitors / month
DR 30+ (DACH) resp. 50+ (USA) (DR = domain rating, ahrefs.com)
Partner Blog KPIs
Thematically related to Flagship
Tonality and communicated values (content DNA) compatible with Flagship
>100 URLs with content
High standards of content quality and authenticity are met
No performance minima such as traffic and sales!
The delta between the two asset types in terms of domain age, domain authority derived via link width, and reach is where the potential for success of this collaboration strategy lies.
While the content of the partner blog has very little link juice and search engine confidence in the content due to the lack of domain history and links, these are the strengths of the flagship in addition to existing, massive streams of visitors.
From day 1 of the content transfer to the flagship domain, hundreds to tens ot thousands of links from a topic-relevant environment have a direct effect via SEO-optimized integration.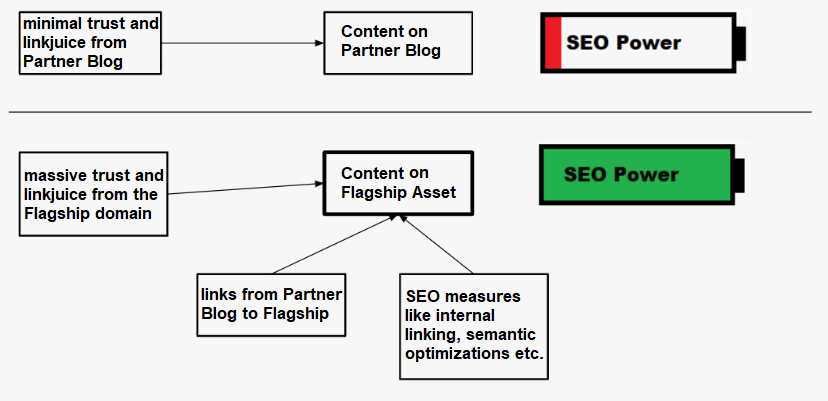 From an SEO perspective, we know that good content alone regularly forms the basis, but in isolation is far from sufficient to achieve organic traction. We also see that bloggers have to be very patient before significant organic traffic can be realized. Depending on the market and approach, we regularly talk about 2 to 5 years before 6-digit traffic volumes are achieved.
With the help of the content licensing model, we can scale the reach and revenue of partner blogs in a matter of weeks.
This is how content licensing works
The partner blog selectively deindexes the content defined with the flagship and grants the flagship access to this content (via WP export or read-only access in the CMS backend).
The flagship optimizes (SEO), integrates and publishes this content on its own website.
The partner blog receives a fixed amount per view or visitor on the licensed content (about 0.01€) and this performance-based compensation is paid out quarterly.
Benefits for the flagship
Obtaining large amounts of high quality content without risk
Greater market penetration in the market-specific blogosphere through cooperations
Inclusion of different perspectives on one's own medium, which is gaining in importance, especially in terms of external impact in times of increasing criticism of supposedly biased media/journalism
Benefits for the Partner Blog
Jump in the reach of your own content thanks to publication on established portals
Increase of your own reputation, because parts of your content are published on renowned portals under mention of your blog
Significant increase in sales, since within a few weeks significantly more readers consume your content
Chance of SEO boost of your blog through links from the flagship domain
Low initial as well as no ongoing effort, as e.g. the marketing of the content is entirely in the hands of the flagship operator
Case Study
As you are used to from us, we only share with you strategies and processes that we successfully implement ourselves. So we can also give you a short look under the hood and show you an example of content licensing.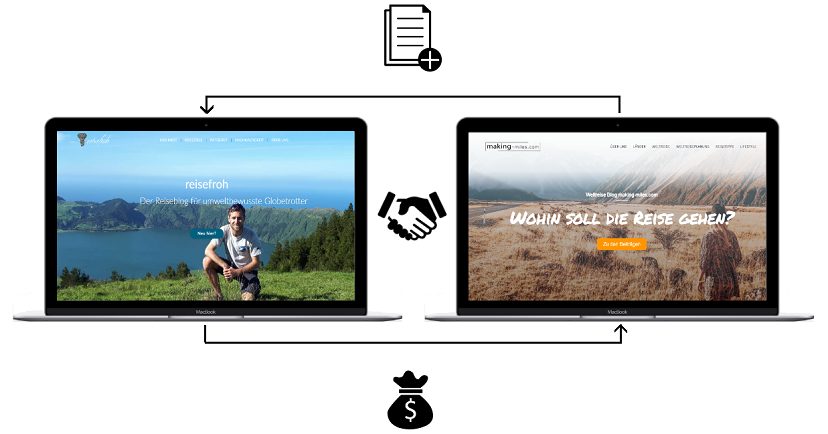 The key data
Flagship
de, leading German-language blog for sustainable travel
Up to 150,000 users per month with 5-digit monthly earnings
8 years old, established in the travel market with tens of thousands of returning users and a broad Pinterest following
Partner blog
Making-miles.com, authentic travel blog with high quality content (texts and photos)
Still much younger on the market with a manageable but growing target group
In total, we have licensed and published 53 subpages of making-miles.com on Reisefroh. Already in the first month, these generate a total of 4-digit traffic and corresponding revenues, part of which is distributed to the partner.
Enclosed are the statistics of the last 7 days of some URLs from our DSP (data science platform):

Step by step guide – flagship owner
Identify potential adjacent topics for your established content site. In our example, let's assume the flagship is a content portal around fishing and hunting. We have identified fly fishing as a topic that is missing on our blog so far.
For a first research, you can exclude a holistic data mining process, as we have established at TreasureHunter, and use SEO tools such as Ahrefs.com. Enter relevant keywords into the Content Explorer and filter the pages currently ranking for them according to parameters such as

One result per domain
Language
Website traffic (about 0-1,000, we want to exclude large sites). In our case we come up with 709 results.

You export these results into a Google Sheet, prioritize those with 'fishing' in the domain name, and click through the respective websites, checking the above criteria around number and quality of content. Depending on the flagship, there will be an estimated 100-200 fundamentally suitable blogs.
You contact these by mail or via social media (LinkedIn and Facebook have proven themselves) and sound out the interest of a partnership.
If the blogger is basically open for the project, you create a list of URLs that interest you and define a contractual framework that regulates in particular the duration and remuneration. At TreasureHunter we aim for a long-term cooperation of e.g. 10 years.
Once the scope and framework have been clarified, you will be given access to the backend of the partner blog, copy the content and transfer it to your flagship asset in existing or new category(ies). Depending on the agreement, you also directly depublish the existing content in the CMS of the partner blog and ask him to deindex the URLs via the Google Search Console.
Tip 1: You can also make your life easier with a WordPress export/import, as long as the partner blog and your flagshap use WordPress.
Tip 2: Always publish the licensed content after it has been deindexed on the partner blog! This way you ensure duplicate content avoidance. You can check this e.g. by entering the respective URL in the Google search using the search operator 'site:[URL of the partner blog]'.
Once all former URLs are de-indexed, you can publish them on your flagship asset and link them internally, SEO optimized if necessary.
At TreasureHunter we still give our licensing partners transparent access to the traffic of the flagship asset (e.g. via Google Analytics or our own dashboard within our data science platform) and generate quarterly, automated reporting for traffic and revenue metrics via export which we send to the respective partner.
Step by Step Guide – Partner Blog Owner
Of course, as the owner of an even smaller blog, you can actively look for licensing opportunities and induce this collaboration model. This can be a perfect stepping stone for you to gain more reach in the short term, boost reputation by prominently featuring on a leading medium in your market, while still generating relevant revenue.
If we were you, here's how we would proceed:
Identify suitable flagship assets in your market. You probably already know them anyway. To make sure you have all relevant content sites on your screen, you can start a short research with tools like ahrefs. Again, we recommend the Content Explorer, enter parent keywords in your market, such as 'angling' or 'fishing' if your blog revolves around the subtopic 'fly fishing'. Focus on large websites, and set the filters for traffic and DR (domain rating) accordingly, such as for traffic from 30,000 and for DR from 30.
Depending on the niche and market, you will then receive between 10-100 potentially suitable flagship assets, which you then manually review, check for compatibility (keyword DNA) and also analyze whether the topic you are offering is already addressed in depth.
All those flagship content sites that have survived this check, you contact in the follow-up by email and / or social media and proactively put the advantages for the flagship owner (highest quality content without initial costs / risks) in the foreground. You can also refer to this blog article as part of your outreach, for example, which should clarify most questions from the outset.
Tip: In case of rejections, you can always refer to guest articles as a fallback. In this case, you would not set up the licensing model with all its benefits, but still benefit from the reach and SEO strength (via a backlink that you include in your guest article) of the flagship.
If you agree with a flagship operator, you give him access to your CMS and ensure the deindexation of the relevant URLs on your blog via Google Search Console (effort approx. 10min for 100 URLs).
Afterwards, you make sure that you get transparent insight into the performance of your content and are happy about monthly or quarterly referrals as well as a sudden increase in awareness of your blog, which makes a big step on the long-term way to grow into a flagship asset.
This is how you can cooperate with us!
We at TreasureHunter are always interested in collaborations with bloggers and content site operators. If your content site already generates 6-digit organic traffic per month and correspondingly high 4- or 5-digit monthly revenues, feel free to contact Tiam from our M&A team directly to discuss a (full or partial) purchase of your asset.
If you run a smaller blog in a vertical like travel, sports or gaming, then our content licensing model could be an exciting and lucrative way for you and us to work together. Together, we can help you drive more traffic to your content and significantly increase your revenue and reach. In this case, too, you are welcome to contact Tiam.
About the author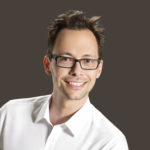 Benjamin is Co-Founder & Co-CEO at TreasureHunter and Co-CEO at ever-growing, a leading European pubTech company in the product comparison market. Part of his job is to regularly test and implement new growth strategies in the areas of content marketing and SEO, with which his teams generate high 7-digit traffic streams per month.